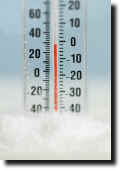 Only some of the variable factors which can influence the desired temperatures or climate are division of the storeroom by storage systems or seasonal influences as well as intake air and waste air.
Food and Drug administration (FDA) as well as the guideline " Guide to Good storage practice for Pharmaceuticals, Annex 9 of The WHO Expert Committee on Specifications for Pharmaceuticals Preperations " stipulate, that substances used for medical treatments have to be stored at the required climate to be able to ensure identity, stability, quality, effectiveness as well as integrity of the products.

We ensure a high flexibility and support on investigating possible problem areas of your equipment concerning temperature distribution. Of course we prepare all documentation and reports for you in which the temperature-profile of the facilities is fully represented. Our documentations are all written according to 21 CFR 211, Part 124.